Thinking outside the box
Submitted by

admin

on Fri, 03/17/2017 - 10:32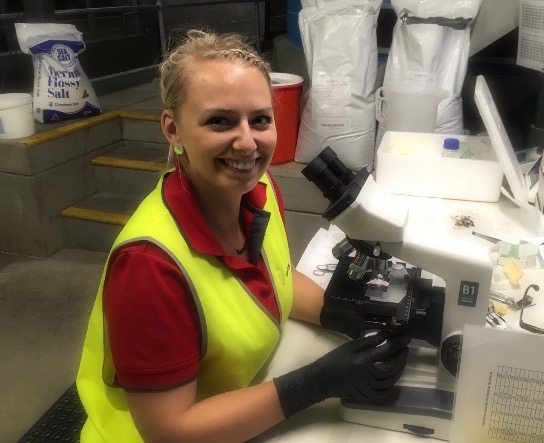 One of the strengths of ERAAAD is our global reach and the opportunities that creates for our staff and students. We believe building capacity for the World Organization for Animal Health (OIE) and its member countries strengthens consistency in veterinary skills.
One of the ways we do this is by exposing students to different ways of thinking and doing through global research collaborations and training.
Meet Lauren Ellis, a student in her final year in the Doctor of Veterinary Medicine program at the Atlantic Veterinary College (AVC). Through support she received from ERAAAD, she completed a two-week clinical rotation in Australia in January 2017. Her first week was in Port Lincoln, on the southwestern part of the country, while her second week was in Tasmania.
We sat down with Lauren so she can give us a bit of perspective on the importance of her experience.
ERAAAD: What kind of work were you doing?
Lauren: It was a clinical veterinary experience. For me, the objective of my involvement was to gain experience in the application of veterinary skills in aquaculture. This included health assessments, disease diagnoses, understanding and application of treatments in hatchery and marine environments and experience in managing and mitigating disease outbreaks. 
ERAAAD: Why do you think this type of training is important?
Lauren: In Tasmania, they are farming the same species (Atlantic salmon) I've worked with in Atlantic Canada but they have a whole new set of diseases, challenges and pathogens. The fish are living in a very different environment with warmer water temperatures. So it was very valuable for me to see how they deal with things that impact production (of salmon farming).
ERAAAD: Give us an example of how they do things differently?
Lauren: I was involved in a different process for treating parasites on the fish. The fish are bathed in Hydrogen Peroxide but instead of pumping fish into a well boat for the bath they place tarps under the sea cage instead. This method was more manual which helped me understand the treatment itself, but also the ways it can be applied and monitored.
The major disease they deal with is ameobic gill disease, which we don't currently have. I became familiar with the clinical signs infected fish show, how to diagnose, treat and monitor for this disease.
The more you travel and see how you can deal with the same issue in a different way makes you a better vet. It helps you to think outside the box.
ERAAAD: Who helped organize this opportunity for you?
Lauren: There are so many wonderful people involved in allowing this experience to happen:
Dr. Larry Hammell (Director of ERAAAD) has been invaluable throughout my veterinary career. He and Dr. Charles Caraguel (University of Adelaide) agreed to send a student interested in aquatic medicine to Australia to gain field experience.
Dr. Caraguel organized my fieldwork with Dr. Matt Landos of Future Fisheries who is a truly remarkable veterinarian that practices high quality medicine on a daily basis. And Dr. Christine Huynh of Tassal, who is also an extremely knowledge veterinarian on managing the production aspect and insuring fish welfare is of utmost importance.
ERAAAD: Why did this experience interest you?
Lauren: I discovered my passion for aquaculture during my Bachelor of Science degree. Since then, I've continued my pursuit of knowledge and experience through research, veterinary work and as a leader in the AVC student community. I realized that a career in aquatic animal health requires training and experience beyond the courses we take. So I decided to explore the option of studying abroad.
ERAAAD: What's one important thing you've learned?
Lauren: I appreciate the importance of comparative medicine, which uses the same principles of practice across many species. In Australia, I was reminded how similar the diagnostic approach is (what I do to figure out what's happening - i.e. the history, exam, deciding which tests to run). We go through the same steps when we evaluate a cage of fish that we would when evaluating a herd of cows.
---
Lauren is planning an event at AVC to discuss what she's learned with the student and faculty. Lunch lectures and case studies are open to faculty and other students as well…
We have no doubt Lauren's passion, enthusiasm and desire to learn more about the global aquaculture industry (and to share that knowledge with others) will help vets around the globe.
ERAAAD helps create these research opportunities so more vets will be able to learn and practice new ways of doing things. Encouraging "outside the box thinking" is a win for everyone: the industry, the veterinarians and, most importantly, the animals.